Oct 17, 2019
JERSEY KNIT MADE OF TURKISH COTTON GIVES THE FABRIC SOFT FINISH
---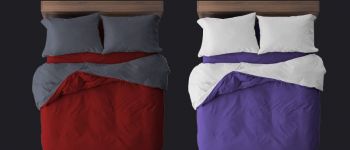 ---
Kobe Tekstil's jersey knitted Turkish cotton which gives the fabric a soft finish while providing durability and ultra breathability
Category: General
Posted by: kobe
Kobe Tekstil's knitted Turkish cotton jersey which gives the fabric a soft finish while providing durability and ultra breathability and made of endless threads, allowing the fabric to move, stretch and fit perfectly your mattress. Kobe Textile Jersey knitted sheets let upgrade your bed to breathable status.Experience the softness you love about your favorite t-shirt every time you slip into bed.100% cotton jersey is knitted to perfection for superior breathability so the cover is warm in winter and cool in the summer.Choose the duvet covers and fitted bed sheets in our wide range of colours. Our wrinkle-resistant jersey knit duvet cover and sheets are knitted to perfection for superior breathability and comfort. The comforter cover offers supreme warmth in the winter and cool comfort in the summer. A natural stretch also ensures that the comforter cover fits flawlessly on your duvet .
Jersey Knitted of 100% Turkish cotton.
Jersey Fitted sheet fits mattresses up to 40 cm deep.
Oeko-Tex® certified, the definitive mark of excellence for products that are healthy for you and healthy for the environment.
Jersey means Easy fitting, easy folding , easy care.
Kobe Textile jersey available in a range of vibrant colors, this jersey knit duvet cover provides adds an alluring element to your bedroom.You can also pair jersey duvet cover and jersey bed sheet with the different colours in the collection, jersey flat sheet, jersey fitted sheet and jersey pillowcases, for a complete jersey-themed bedding experience you'll love.
Kobe Textile jersey producs are certified by Oeko-Tex®, an international association focused on textile safety and sustainable production.Oeko-Tex® tests for known harmful substances and chemicals as well as for acidity and color fastness. All components of the product must comply with stringent Oeko-Tex® standards to achieve certification.